Gerald & Julius Petrus

Julius Leonard Petrus Sr.

Julius Leonard Petrus was born October 1, 1920 in Skidmore, Texas. His father, Julius Raymond Petrus died when he was just 5 years old.

As a child, Julius was less than a model student. As the story was told, Julius would leave for school in the morning and come back in the evening with a stringer-full of catfish. His official schooling ended in the 3rd grade.

Julius, Gerald and Annie Laurie Petrus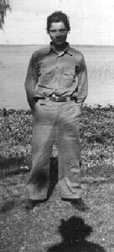 Julius Petrus at about age 15.
Julius enlisted in the Army during World War II and served in the Phillipines. Julius's military records were one of the many that were destroyed on July 12, 1973, in a fire at the National Personnel Records Center in St. Louis, Missouri. I did receive a "Certification of Military Service" certificate from the NPRC which reads as follows:
United States of America
Certification of Military Service

This certifies that Julius L. Petrus, 38 145 435, was a member of the Army of the United States from August 27, 1942 to January 3, 1946. Service was terminated by Honorable Discharge. Last Grade, Rank, or Rating - Private First Class. Active Service Dates - September 10, 1942 to January 3, 1946.

Given at St. Louis, Missouri, on September 25, 1998.

National Personnel Records Center
(Military Personnell Records)
National Archives and Records Administration
Julius attained the rank of Seargent while in the Army, but was demoted back to Private after an undetermined incident. At least a portion of his contribution to the war effort was feeding his fellow soldiers.
While in the Army, Julius complained about the quality of the pies they were be served. They asked him "Do you think you can do better?" He said "Hell yes!" and they made him a cook. -- Patsy Jean Robertson/Petrus
Julius received and honorable discharge from the army on January 3rd, 1946.
Enlisted Record and Report of Separation Honorable Discharge

1. Name: Petrus, Julius L.
2. Army Serial No: 38 145 435
3. Grade: PFC
4. Arm or Service : CA
5. Component: AUS
6. Organization: Battery A 168th Antiaircraft ARTY (AW) Battalion.
7. Date of Separation: 3 Jan 46
8. Place of Separation: Separation Center Fort Sam Houston Texas.
9. Permanent Address for Mailing Purposes: Box 123 Odem San Patricio Co Texas
10. Date of Birth: 1 Oct 20
11. Place of Birth: Skidmore Texas
12. Address from which employment will be sought: See 9
13. Color eyes: Hazel
14. Color hair: Brown
15. Height: 5' 9"
16. Weight: 159 lbs
17. No. Depend: 0
18. Race: White
19. Marital Status: Single
20. U.S. Citizen: Yes
21. Civilian Occupation and No: Rigger 5-88.020
22. Date of Induction: 27 Aug 42
23. Date of Enlistment: --
24. Date of Entry into Active Service: 10 Sep 42
25. Place of Entry into Service: IND STA Ft Sam Houston Texas
26. Selective Service Registered: Yes
27. Local S.S. Board No: #1
28. County and State: Bee Co Texas
29. Home address at time of entry into service: See 9
30. Military Occupational Specialty and No: Cook 060
31. Miltary Qualification and Date: Marksman Rifle 23 Nov 42
32. Battles and Campaigns: Bismark Archipelago, New Guinea, Southern Philippines GO 105 WD
33. Decorations and Citations: American Theater Campaign Medal, Asiatic Pacific Campaign Medal with 3 Bronze Stars, Philippine Liberation Ribbon with 1 Bronze Star, Good Conduct Medal, Victory Ribbon, 1 Service Stripe, 4 Overseas Service Bars.
34. Wounds received in action: None
35. Latest immunization dates: Smallpox 20 Aug 43 Typhoid 10 Jul 45 Tetanus 20 Dec 43 Typhus 17 Jan 45
36. Service Outside Continental U.S. and Return: Date of Departure 25 Sep 43 Destination AP Date of Arrival 10 Oct 43
(ln 2) Service Outside Continental U.S. and Return: Date of Departure 30 Nov 45 Destination US Date of Arrival 20 Dec 45
37. Total length of service: Continental Years 1 Months 1 Days 11, Foreign Service Years 2 Months 2 Days 26
38. Highest Grade Held: TEC 5
39. Prior Service: None
40. Reason and Authority for Separation: Convenience of the Government (RR 1-1 Demobilization) AR 615-365 15 Dec 44
41. Service schools attended: None
42. Education: Grammer 8 High School 0 College 0
43. Longevity for pay purposes: Years 3 Months 4 Days 7
44. Mustering out pay: Total $300 This payment $100
45. Soldier Deposits: None
46. Travel Pay: $4.90
47. Total Amount, Name of disbursing officer: $212.17 W A Whittet Lt Col Fd
48. Kind of Insurance: Nat. Serv.
49. How Paid: Allotment
50. Effective date of allotment discontinuance: 31 Jan 46
51. Date of next premium due: 28 Feb 46
52. Premium due each month: $6.60
53 Intention of Veteran to: Continue
54. (right thumb print)
55. Remarks: Lapel Button Issued ASR Score (2 Sep 1945)-76
56. Signature of Person being Separated: Julius L Petrus
57. Personnel Officer: M.L. Clifton CWO USA, Ass't MIL P ERS Officer
After returning from the war, Julius married Patsy Jean Robertson on April 29th, 1946 in Gregory, Texas. His courtship of Patsy began at "Skoots" cafe, owned by Patsy's father, "Skoot" Robertson.
We ran a cafe in Odem and Julius's mother Ella Petrus also ran a cafe. One day a customer we called "Barnacle Bill" noticed that Julius was spending a lot of time in our cafe and remarked "Why is Julius buying coffee here instead of at his mother's cafe?" I told him "You know damn well why he's coming here! He's coming in to see Pat!" -- Eva Catherine Howard/Robertson.

Marriage License, County of San Patricio, State of Texas.

To any Regularly Licensed or Ordained Minister of the Gospel, Jewish Rabbi, Judge of the District or County Court, or any Justice of the Peace in and for the State of Texas, Greeting:

You are hereby Authorized to Solemnize the Rites of Matrimoney between Mr. Julius L. Petrus and Miss Patsy Jean Robertson and make due return to the Clerk of the County Court of said County within sixty days thereafter, certifying your action under this license.

Witness my official signature and seal of office at office in Sinton Texas, the 22nd day of April 1946. H.M. Jackson Clerk of the County Court by (blank) Deputy San Patricio County, Texas.

I B.F. Bickley hereby certify that on the 29th day of April 1946 I united in marriage Mr. Julius L. Petrus and Miss Patsy Jean Robertson the parties above named. Witness my hand this 30 day of April 1946. B.F. Bickley Pastor, Gregory Baptist Church, Gregory, Texas.

Returned and filed for record the 1st day of May A.D. 1946 and recorded the 1st day of May A.D. 1946 by (blank) Deputy H.M. Jackson County Clerk.
Julius was a true "Jack-of-all-Trades." He worked as a pipefitter, oilfield worker, gas station owner, truck driver, government trapper, homebuilder, etc. In fact, several homes he built are still in use in Skidmore, Texas.
He was also an avid gardener, hunter, and fisherman. We used to say that Julius would sit in the garden and watch the plants grow.
One time, dad and I came upon a deer while driving along a ranch road near Corrigan Pool. Dad told me to grab my rifle and as I took aim at the deer, I heard a loud bang! He made the shot, saying that I was "taking too damn long" -- Keith Petrus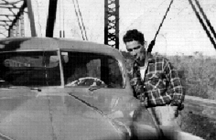 At the old Corrigan Pool Bridge (4 miles east of Skidmore on the Aransas River).
In his 60's, Julius developed circulatory problems and underwent heart surgery at the Veteran's Hospital in San Antonio.
We visited Dad while he was in the hospital. He was apparently still feeling the effects of the drugs he was given because we noticed he was behaving strangely. He would reach into his pocket and pull out an invisible object. He then tapped the invisible object against his hand and raised it to his lips. We finally figured out that he was smoking an imaginary cigarette. -- Keith Petrus
After his surgery, Julius was impatient to regain his mobility and attempted to drive his car before he was ready.
I came home from college to find the rear end of Dad's car completely demolished. No one was home at the time and I feared the worst. Thankfully, the neighbors came over to let me know that Dad was OK. It seems he tried to back the car out of the ditch and his foot stuck on the gas pedal causing him to back across the street and into a stationary train car. He suffered only a minor injury to his scalp requiring a few stitches. True to his nature, Dad wasn't willing to pay to have the car repaired. Instead he asked me if I thought that I could rebuild the back end of the car in wood. I said "Sure" and, with the help of Marvin Baumfalk, managed to rebuild and paint the entire back end of the car including a scavenged rear window from a camper trailer. He drove that thing around for years. -- Keith Petrus.
In 1993, Julius's health took a turn for the worse. He suffered several strokes that eventually left him hospitalized. He was diagnosed with "congestive heart failure" and was placed in a nursing home in Sinton, Texas. He died December 16th, 1993 with his sister Annie Laurie at his side. He was buried December 18th, 1993 in Evergreen Cemetery, Skidmore, Texas.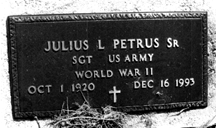 Email comments to: ckpetrus@mac.com