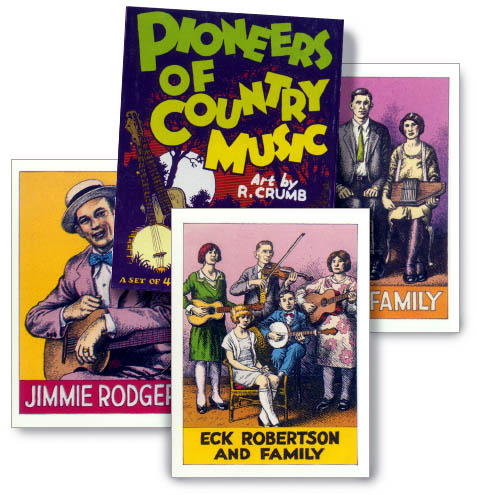 Alexander Campbell "Eck" Robertson

Eck was born November 20th 1887 in Delaney, Arkansas (Madison County).

Eck is probably the most famous member of our family. He was the first man to record a "commercial country-western record for Victor Talking Machine Company" back on June 30, 1922. Listen to "Grigsby's Hornpipe" by Eck Robertson (give it a few minutes to load).

Eck's musical career began as a child, playing with his father and brothers, most all of whom were accomplished fiddle players. At age 16 Eck left home to begin his own musical career, joining traveling "medicine shows" in Oklahoma and Texas.

Eck and wife, Nettie, circa 1907.

In 1906, Eck married his childhood sweetheart, Jeanetta "Nettie" Belle LEVY. Their children were (in no particular order):

Daphne Robertson/Wood - Daphne married a WOOD and had at least one son, Alvis J. WOOD who was raised by Eck after Daphne died. Alvis had at least one son name Rodney WOOD. (Thanks to Cheryl WOOD for providing information about Daphne's descendants)
Marguarete Robertson
Dueron Robertson - Dueron died in 1944 in WWII. His plane was shot down over France.
Odessa Robertson/Henderson
Beulah Robertson/Davis
Audrey Robertson/Winters,
Donna (Donnie) Robertson/Barnard,
Bobbie Robertson/Henderson
Jack Robertson

Though married and holding down a piano tuning job with the "Total-Line Music Company," Eck and Nettie continued to perform vaudville shows and enter fiddling competitions.

Eck Robertson (third from left). Photo courtesy of Martin Fox.

In 1922, Eck attended the Old Confederate Soldier's Reunions in Richmond, Virginia. There he met fiddler Henry C. Gilliland. After performing at the opening ceremony for over 4,000 veterans, Eck and Gilliland travelled to New York in an attempt to record with the Victor Talking Machine Company. They succeeded and are now believed to be the first commercially recorded country music artists.

Eck Robertson and Henry Gilliland. Photos courtesy of Martin Fox.

In 1929, Robertson recorded again with the Victor Company but due to the stock market crash and subsequent contract disputes, Eck saw little gain from his efforts.

The remainder of Eck's musical career was one of relative obscurity. Eck continued to perform and fiddling contests and vaudeville shows with an occasional appearance on regional radio and television shows. Eck never again received real national exposure though and even his closest relatives often didn't fully realize the level of his talent.

I remember Uncle Eck's visits to our home in Crowell Tx when I was younger. On his visits we would stay up half the night and listen to him play the fiddle and tell stories. On one occasion I remember my Grandfather (Vird Robertson) played the banjo and sang while Uncle Eck played the fiddle. I always enjoyed Uncle Eck's visits because he always had some interesting stories to tell and he would always play his fiddle. It wasn't till I was older that I realized just how much talent Uncle Eck had. The first time I remember someone telling me I had a very important Great Uncle was when a neighbor called me over to her house to show me a TV show that my Great Uncle was playing on. I don't remember the show, but Uncle Eck played the fiddle and did a lot of tricks using the fiddle. -- Kenneth W. Hough




Eck was the consumate showman. Roxie Hough tells of Eck's reaction on hearing the news of the death of his mother, September 27th 1939.

...when grandma Robertson died Uncle Eck was playing at Brownfield when she passed away and as he couldn't get a bus out until nearly midnight he went ahead with the program and dedicated it to her. We moved to Brownfield 2 years later and they were still talking about how impressed they were with his performance after he had the bad news about his mother. -- Roxie Hough

| | | |
| --- | --- | --- |
| | | Old-Time Texas Fiddler Eck Robertson Vintage Recordings 1922 - 1929. County Records 3515. You can order this album over the internet from County Sales. |

Eck Robertson, Old-Time Texas Fiddler"
Excerpted from liner notes.

"The dusty little town of Baird is located in central Texas, a few miles east of Abilene, and in November 1929, just a week after the stock market crashed, the citizens there were looking over the new window cards advertising the show at the local theater, the Sigal. On the silent screen was the latest effort from comedian Buster Keaton, "The Cameraman." But more interesting to Texans was the vaudeville program. "Come See! Be Convinced!" the text read. "Eck Robertson (In Person and Family). World's Famous Cowboy Fiddler, Record and Radio Artist. Old Time Melodies, Trick and Stunt Fiddling, Singing and Dancing," it continued, and then asked, "Did You Ever Hear a Fiddle Talk?" If not, here was your chance - and only for forty cents. And along with Eck was his family: 9-year-old Eck jr. on tenor banjo; "Miss Daphne" on guitar, and 12-year-old "Miss Marguarete" doing "Novelty dancing." And though it was not mentioned on the poster, somewhere during the show, the audience would hear the 42-year-old head of the family, Alexander Campbell Robertson, play his signature tunes like "Ragtime Annie," "Sally Johnson," and "Sally Gooden." And some of them would remember that the man making the fiddle talk was also possibly the best fiddler in the state of Texas at that time, winner of dozens of contests, a musician so respected that when he merely entered a contest the promoters would advertise it as a draw to get the fans in. And after this concert, and hundreds like it across the Southwest, some listeners would in fact "be convinced" that they were seeing something special - one of the premier fiddlers in American history, at the very peak of his abilities."

Daughter Daphne, son Dueron, and Eck, circa 1928.

In the course of his lifetime, Eck met, played alongside, or competed against many of the biggest names in country music including the Wills family.

One of the most interesting encounters between the Wills family and Eck Robertson was at a fiddlers' contest in Munday, Texas. Between fifteen and twenty fiddlers were there, which was about the size of the field for most fiddlers' contests in West Texas. Each fiddler usually played two or three tunes. Then the top two fiddlers competed for the finals.

At Munday, Eck Robertson and John Wills were selected for the finals. This was a big contest; both men were far from home; first prize was more than either could have earned in two months' work. Eck went to the platform first and probably played "Beaumont Rag" – neither Bob nor Johnnie Lee Wills could remember for sure; but Bob said "Beaumont Rag" was always Robertson's best. Whatever he played was good, and when he left the platform everyone knew he would be difficult to beat.

John Wills, in his turn, probably played "Gone Indian," for that was one of his best. When John reached a certain place in the tune, he began hollering and held an elongated cry about an octave above his fiddle music so that his voice harmonized with the fiddle. John kept the music and holler going for what seemed like minutes. His performance was a crowd and judge pleaser, and he won over his arch-rival.

As Robertson left the scene of the contest, someone asked, "Eck, did John outfiddle you?" Eck answered, "Hell no! He didn't outfiddle me. That damned old man Wills outhollered me." – Excerpted from San Antonio Rose: The Life and Music of Bob Wills, pg. 30.



In 1964 Eck attended the UCLA Folk Festival where he was photographed by Peter Feldmann. I came across the photo of uncle Eck on Mr. Feldmann's website and he very graciously agreed to allow me to reproduce it below.

| | | |
| --- | --- | --- |
| Eck Robertson, 1964, photo courtesy of Peter Feldmann. | | "I can tell you that your granduncle was very much 'there' during his visit to Los Angeles. He was very articulate in telling stories about his fiddling escapades. At the time I spoke with him, he had his fiddle secured with a leather strap that went from the endpin to a loop around his neck - this was to help him keep the instrument steady when he played. His hands would tremble a little, but when that bow hit the strings, it was rock solid. Eck would talk about a particular fiddle tune, then proceeed to play an example, then just let go of the instrument and start talking while the fiddle swung back and forth in front of him like a clock pendulum. It was sort of unnerving to us listeners and fans... His 1922 'Sallie Gooden' is my favorite fiddle recording, period." – Peter Feldmann |

| | | |
| --- | --- | --- |
| | | Eck attended the Newport Folk Music Festival in 1965 and recorded "Forked Deer/Eighth of January" with the New Lost City Ramblers. Vanguard Records. |

In 1965 he appeared at the Newport Folk Festival. At Newport, as he did a year earlier at UCLA, Eck supported his fiddle with the help of a strap tied around his neck. He joked with the audience that he needed a rope to keep him from "falling off the stage."

| | | |
| --- | --- | --- |
| | | Eck Robertson appears all too briefly in the 1965 Newport Folk Music documentary entitled "Festival" – available on DVD at Amazon.com. |

| | | |
| --- | --- | --- |
| | | Eck's rendition of "There's a Brown Skin Girl Down The Road Somewhere" is featured on "Before the Blues." The early American black music scene. Yazoo Records 2016. |

Eck's final years were difficult. In 1968 Eck wrote to his brother "Vird" Robertson expressing concern for his brother's condition and complaining about his own declining health. The letter was found among the belongings of his brother Granville "Skoot" Robertson. (excerpted)

1414 B. E. 10th, Amarillo June 7th 68.Vird I'm so nervice I cant write. I hope you are doing better by now. I'm worse than I ever was. I dont know what to do. I cant work any on instruments or play at contests. Owe $20.00 on this months rent. Out of medicine too. Caint sleep at night at all, caint eat but a little at a time and only 2 times a day and only certain things. I'll have to get in a Hospital I guess again...

After his home in Amarillo was severely damaged by fire and Eck was forced to move into a rest home.

"...I remember the last time [we saw Eck]...We took this County Sales record that had dad's tunes and we played them for those old people in the nursing home that day." -- Beulah Davis

"...Eck wanted to know - we had one of his tunes, I don't know if it was Wagoner or what - he wanted to know `Who's that fellow playing the fiddle?' Beulah told him `Why, that's you.' `I never played a tune that fast in my life,' he said." -- Doyle Davis

Eck died February 15th, 1975 at the age of 88 in Fritch, Texas.

Eck's tombstone reads "World's Champion Fiddler."

In Memory of Mr. Alexander Campbell "Eck" Robertson

November 20, 1886, Arkansas
February 15, 1975, Borger, Texas

Funeral Service
The Simpson Funeral Home Chapel
Tuesday, February 18, 1975 2:00 pm, Borger, Texas

Officiating Clergy
Dr. Kenneth Earl Jones, Sr.
Pastor of The First Christian Church

Casket Bearers
Allen Henderson, Dwain Henderson, Joe Bob Henderson, Billy Don Winters, Marvin Don Henderson, Chris Barnard, Gene C. Wood, Alvis J. Wood.

Internment
The Westlawn Memorial Park Cemetery, Borger, Texas.

Escort
Courtesy of Local Law Enforcement

The funeral is not only a declaration that a death has occurred, it also is testimony that a life has been lived.

While he was already recognized nationally in the Country Music Hall of Fame, Eck was inducted into the Texas Country Music Association Hall of Fame on October 25th, 2002 along with Moe Bandy and Joe Stampley. The ceremony took place at the VFW Hall in Annaville, Texas. His great-nephews, Julius Petrus Jr. and Keith Petrus accepted the award on his behalf. Special thanks to "Dr. Bruce Stratton" for nominating Eck for the award.

Texas Country Music Association Hall of Fame Induction Award.

As I was browsing the Austin Public Library, I was surprised to find uncle Eck staring back at me from one of the shelves. Apparently the author was a fan of Eck's and chose him for the cover of his instructional fiddle book. - Keith Petrus

Uncle Eck may be gone but his legacy lives on through the many living fiddle players that continue to appreciate and emulate his unique style of play.

Dear Mr. Petrus,

This letter is to express my gratitude and compliments to you for your very well done, and sensitive tribute to your relative, Eck Robertson.

As I write this, there is snow on the ground here in the Appalachian mountains of North Carolina, and it is 10 degrees outside! I have my fiddle setting beside me as I humbly attempt to play Ecks version of "The Texas Wagoner" tonight, one of my favorite pieces by him. I am a 62 year old fiddle player and I have been playing for a long time. However I must say to you that Eck Robertson, beyond any shadow of a doubt, was the best of all of them, in Texas, here in the Southern Mountains, or anywhere else in the USA, playing the old time fiddle.

His consummate bowing, left hand skills, sense of timing and phrasing, then and now, were, and are, un-matched, period. You have much to be proud of as he influenced many fiddlers throughout the years and brought much joy and pleasure to all of us with his music. I am proud to say that over the years, I have been able to come close to playing his version of "Grigsbys Hornpipe"

I have attached a picture below of Eck to this message that I have always treasured, I don't even remember where I got it, you may already have it, but if not, I hope you will enjoy seeing it. Please feel free to use it on your site if you wish.

My wife Sallye and I wish you and your entire family a happy and prosperous 2008. And, thank you for taking the time to read this letter.

With Best Regards, Martin Fox, Old Time Fiddler, Fairview, NC.

Photo courtesy of Martin Fox.